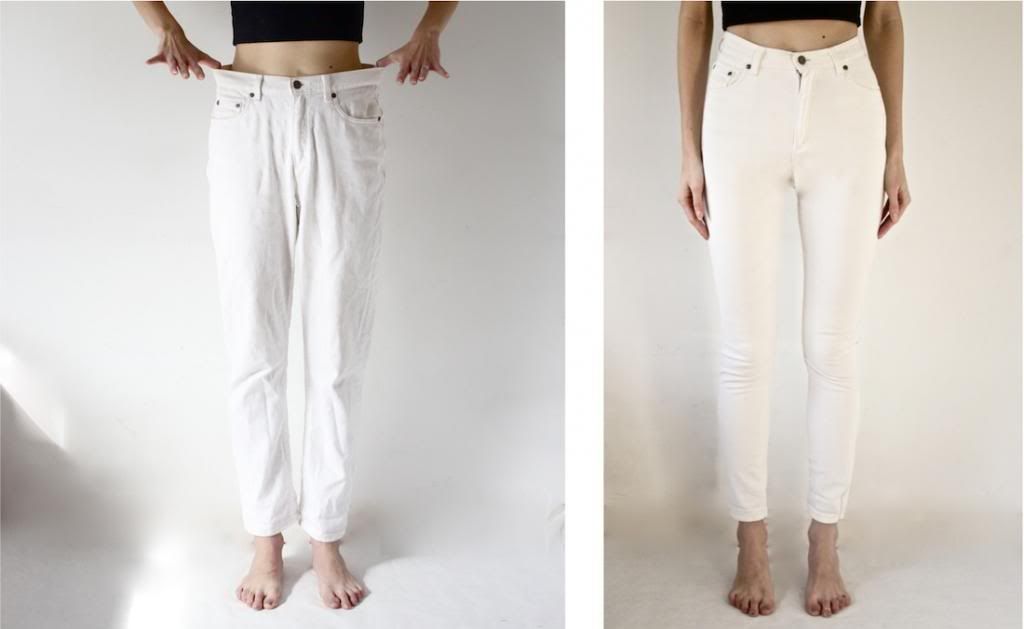 Remember I told you that I was on a hunt for vintage white jeans so that I can totally violate them and make them into skinnies? A day later I realized that I already had a pair. I had bought this pair of vintage denim thinking I'd wear them as boyfriend jeans, but sometimes life just doesn't work out the way you plan.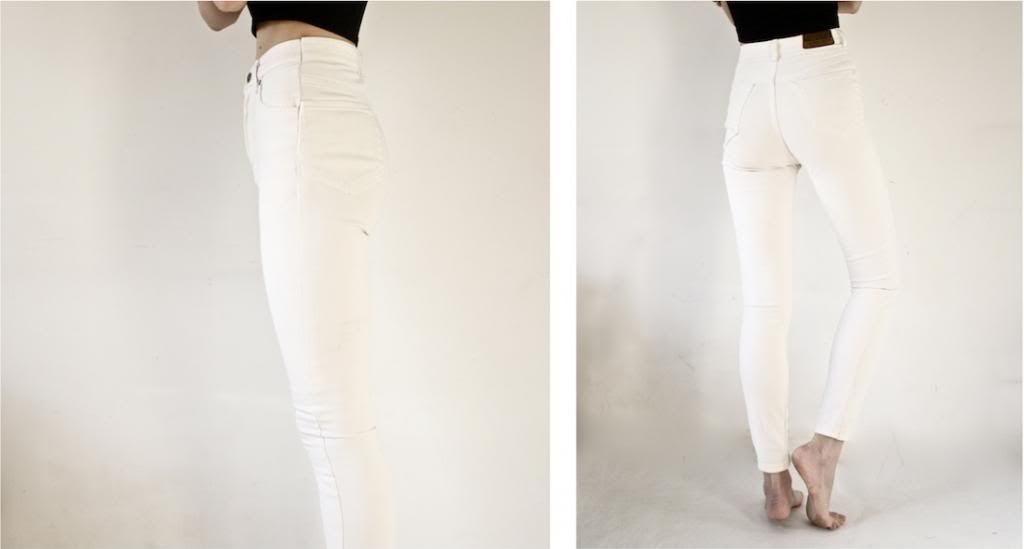 Well, that was a bit dramatic when talking about a pair of pants… Basically, what I'm trying to say, is that I had this pair of denim, I wasn't wearing them enough so they were transformed to a style that can be worn every single day. Worked out perfectly. How to: 1. Wear your denim inside out and pin the sides so that the hips and legs fit. Don't worry if the legs are not as tight as you want them to be right away, just pin it so that the fabric lays well. 2. Make a seam where you have pinned. 3. Cut off the excess fabric on the sides. 4. Make a zig-zag seam where you cut-off the fabric. This will prevent the fabric from fraying when washing. 5. Try on your denim inside out again and pin the inseam of the leg. Now pin them as tight as you want the end result to be. 6. Make another seam where your new pins are. 7. If there is too much excess fabric on the inseam, cut it off again and do a zig-zag seam. And you're done!!! Enjoy your new jeans! I really like that there are some imperfections – you can see that one of my pockets is a bit more to the side. That just gives these jeans a bit more character – you go and try to find a pair like this at Forever 21! I dare you! Have a productive week, my babes!!! PS. UPDATE: I did want to mention that in
my last post,
 where I first shared the art of transformation, the pants fit perfectly in my waist so all I had to do was starting step 5! So, obviously, the better fit you find, the easier it will be for you to alter. PPS.
Vancouver Fashion Week
 starts tomorrow! I've never really followed VFW before so I'm super excited. Expect to see some of my favorites!!